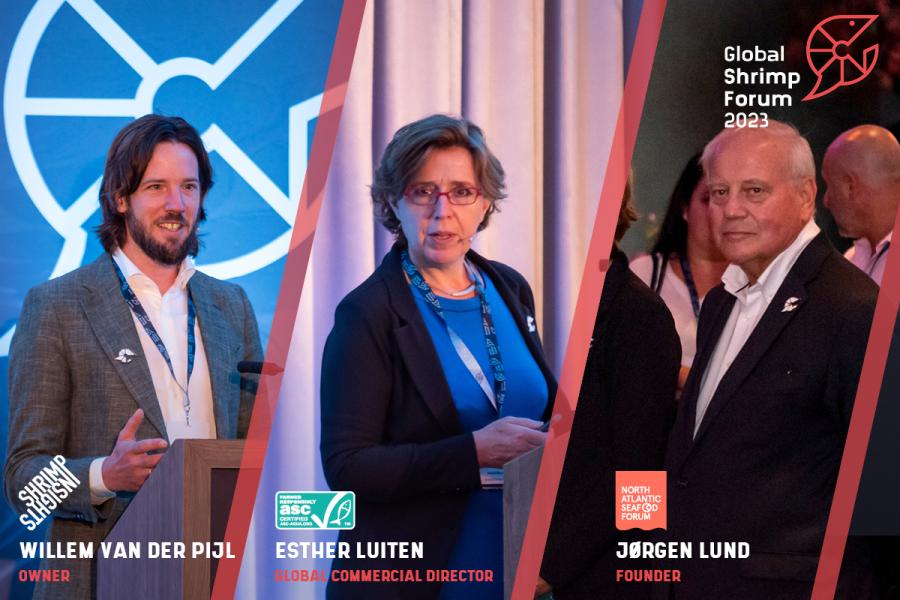 After the success of last year's Global Shrimp Forum, we are delighted to return for our second event in September 2023. We recently spoke to three of the GSF board members, Esther Luiten, Willem van der Pijl and Jørgen J. Lund, to hear about their personal highlights from the 2022 forum and to get a feel for what's in store at this year's GSF.
Q: What was your personal highlight of the GSF 2022?
Esther: As with any event when you run it for the first time, you always wonder how it's going to take shape. From the very beginning of the event, I was delighted to see so many people from across the industry networking and connecting. It was clear that there was a 'spark' from the very beginning, which was wonderful to see. I'm sure we will see the same in 2023. 
Jørgen: As the GSF was a major new entry into the seafood calendar, I also wondered what people would think. We did an enormous amount of planning and preparation for the GSF, so it was very gratifying to see the event come together and deliver such a high quality of information. The forum also brought the entire industry together, from producers to retailers, enabling them to network in a way which has not been possible before. This was our main objective, to be a meeting place for top executives and decision makers from across the industry, and it was a personal highlight for me to have achieved this.
Willem: There was a particular moment for me in the final seminar I attended, where one of the CEOs of a huge Ecuadorian exporter came to me and said, "Willem, what I just heard about the boom of monodon culture in India, is that really true? Is this going to change my marketplace?" I really enjoyed that moment because it demonstrates just how vital meeting places can be. I was thrilled that the content we brought together last year has meant we can still surprise high-level executives in the industry, and for me, this was a huge compliment.
Q: What do you think are the main challenges for the 2023 forum and what are your ambitions?
Esther: I have two ambitions for our next event. The first is to strengthen the presence and participation of the buyers, retailers and brands. It's difficult to bring all of these groups together, as shrimp is just one product for them, but they are equally a very important piece of the entire supply chain who can further enrich discussion. The second area is to have even better geographical representation and bring the importance of the Asian markets and production sites to the venue. This is a market where production and consumption will continue to grow, so whilst this might not be an ambition we achieve right away, it's certainly something important for us to strengthen over time.
Willem: I agree with Esther, that further strengthening and also maintaining the audience that we had last year is a key focus for us in the run up. We are also making sure to design the programme even more effectively and to make better use of the time and space we have, to provide delegates with a better experience for networking and content.
Jørgen: We have certainly set the standard for 2023 and we must ensure we perform in accordance with these expectations. This is a great challenge, but I'm sure that with the correct preparation and improvements, there will be nothing to stand in our way. 
Q: Are there any specific or important seminar conversations that you are looking forward to this year? 
Willem: There are two parts of the 2023 programme that I am particularly looking forward to, the first being the plenary session on exports and import statistics. This is becoming a staple in the Global Shrimp Forum programme, where we take the audience through the latest trends in trade flows and production. We will also have the biggest buyers and sellers of the industry present to comment on those trends, and this really sets the scene for the whole event. 
Whilst we are by no means a sustainability conference, sustainability issues are of course high on the priority list of most industry leaders who will be attending. The second part I'm looking forward to is the breakout session on the morning of day two, where we will dive deeper and more technically on both decarbonisation and animal welfare, as both of these topics are a top priority for many consumers and industry participants. Conversation and information surrounding these two topics will be very valuable for attendees.
Esther: In addition to those two parts, I'm pleased that this year we will also turn conversation towards feed, as this is a topic which is important for every producer, and a concern for many retailers too. We will explore this topic from a broader perspective, not only looking into the marine and innovative ingredients being used, but also the terrestrial ingredients. We will aim to show just how important and broad the topic of feed really is, and I'm certainly looking forward to bringing this to the 2023 audience. 
Q: What are the outcomes you hope to achieve from the 2023 Global Shrimp Forum and beyond? 
Jørgen: Finance is a very important facet to the industry to help it grow, but shrimp does not have the same financial capabilities if you compare it to an industry like salmon. We have a mission here to bring shrimp forward in a greater way and to have a stronger focus on sources of finance to help the industry develop. This will be a major objective for the event going forward and by bringing more investors to the GSF, they will be able to see for themselves the great potential of the industry.
Esther: An outcome I would like to see from this second event, is for people to recognise that we are not just bringing the leadership together again, but we have created a platform to drive important discussion forward for the entire sector, which in turn, will help to shape the industry.
Willem: I too hope that with each event, we are building a great community of leaders to create a more resilient future for the shrimp industry. The second Global Shrimp Forum will be a great step towards this, and I'm excited for what the future holds.
---
The Global Shrimp Forum will take place between the 5th-7th September 2023. The forum will gather around 500 executives from across the shrimp industry, to discuss the most pressing issues facing the sector, and to develop a long-term strategy towards a better and more sustainable future for shrimp. 
Early-bird registration is open until 1st April, so head over to the registration page to book your place today.