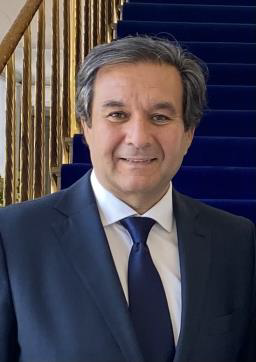 Group CEO
/
Mathias Ismail
Born in Antsirabe (Madagascar), internationally educated in Europe and in the USA, Mathias ISMAIL has been directly involved in the seafood industry and particularly Madagascan prawns sector for close to 20 years.
Under Mathias's leadership, OSO® went first vertical, investing, in Madagascar, in what has become in 2007 the world's very first, and largest, organic prawn farm, certified under EU/France Official "AB Organic Label". At the same time, Mathias made OSO® to merge with Reynaud®, France leading seafood wholesale distribution company, in order to link sustainable production with market access. R&O, Seafood Gastronomy, the mother company of OSO® and Reynaud®, is quite unique in Europe by its size (33.000 tons/year of fresh seafood), its seafood revenue (€ 270 million, 1250 associates) and its product innovations, such as:
OSO ® Organic and Wild caught Madagascan Prawns
OSO ® Organic Gulf of Corinth Seabass
OSO ® Organic Gulf of Corinth Seabream
OSO ® Organic Irish Salmon
Reynaud ® Polar Circle Salmon
Reynaud ® La Perle Blanche – The Chefs's Oyster
R&O, Seafood Gastronomy, France largest seafood wholesale distribution company, has become today a premium "One-Stop Shop" in sustainable seafood, from production, marketing and distribution working directly in the EU with premium foodservice and Michelin Stars chefs and traditional food retailers and fishmongers.
These achievements, particularly in the fields of OSO ® premium organic certified prawns and fish, have been recognised several times by European consumers.
The international NGO "Seaweb/Seafood Choices Alliance" has honoured Mathias and his achievements at OSO ® by electing him "Seafood Champions" for his contribution to the sustainable seafood sector and the organic aquaculture industry.
Mathias ISMAIL graduated from Lyon Graduate School of Business (EM Lyon, France). He holds a master's degree in Economics from Paris-La Sorbonne University (France). He is a Saint-Louis de Gonzague (Paris) school alumni. Mathias is a Commander of the "Mérite Agricole" of France and a Commander of the Madagascar National Order.
Mathias is 52 years old, married, and father of two daughters.